If you have followed the author of this blog's excursions up to this point, then you are most likely familiar with the fact that I like hiking; it's hiking that doesn't like me.

I've hiked the gorge of Preveli and survived, by the skin of my teeth. I've gone on multiple hikes across America, Europe, and South America, to varying degrees of success. Against all odds, I love the great outdoors, and to this day I cannot keep away. So it should come as no surprise that I decided it was time to hike Samaria Gorge.
Growing up, this hike was hyped up to me by my father, who spent several summers on Crete as a teenager. He told me what an adventure it was to hike the gorge, how incredible a natural wonder it was. He also told me it was a challenge. He quite often told me that it was a hike I should prepare for, but that if I did, and we were lucky enough to go to Greece, he would take me.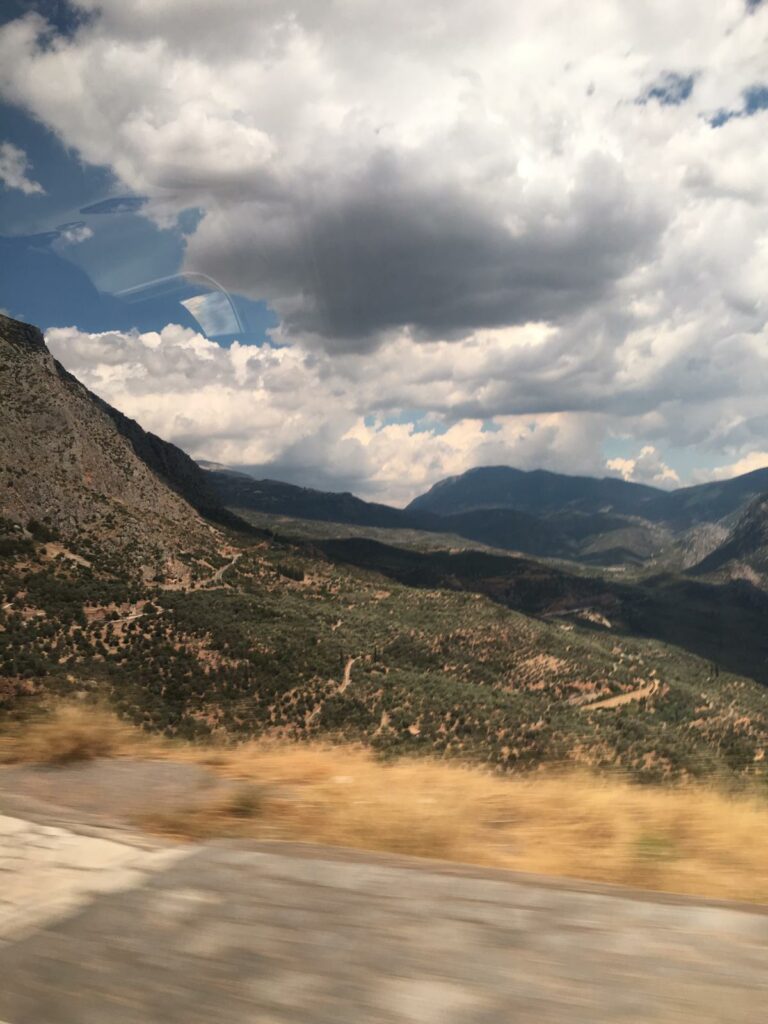 But me? Prepare for a hike? Please. I've hiked through mountain trails and desert paths, through crevices and canyons and cliffsides. Though I have certainly had my fair share of pain, (not to mention regretted not bringing along just one extra water bottle), I have never felt like I needed to prepare for a hike, and I was not about to start now. It's not like I was doing the really challenging ones, anyway. There's an old saying in my family: you can't get off a couch and expect to climb a mountain. My existence was a testament to the opposite.

However, I will admit: I was intimidated by this one.

Samaria Gorge is one of Crete's most well-known natural wonders, located on the southwestern part of the island in the White Mountains of Crete. It's a 10 mile track through a limestone canyon that is traditionally open from May 1st to October 31st, whereupon the rains of autumn make the trail too dangerous to traverse. It is the longest gorge in all of Europe, making it a popular challenge for hiking enthusiasts. If you want to hike the whole length of the trail, you must arrive before 1P.M.

Depending on whether you feel like hiking for six hours, there are 'lazy' versions of the trail that exist. There are different starting points within the trek that lessen your hike time, and serve as a great alternative for those who are unable (or unwilling) to hike for long periods but still wish to see the park. There are, of course, tours you can purchase that come with a guide to make sure you don't get lost. Some even include breakfast. All include transportation, most departing from the city of Chania, though there are some that will pick you up from your hotel, or in Heraklion. Most tours arrive at Samaria Gorge at about 7:00 A.M. in order to make the most of your day.

There were plenty of logistical reasons for me to worry about this hike, but the selling point was that for the most part, the trail went in one direction: downward. Six hours of hiking sounds like a rough day, but in my hubris I was convinced that it truly would not be that bad. So what if I had to wake up at the crack of dawn to catch a pre-arranged bus to transport me to hike at 7 in the morning? Today was going to be a good day.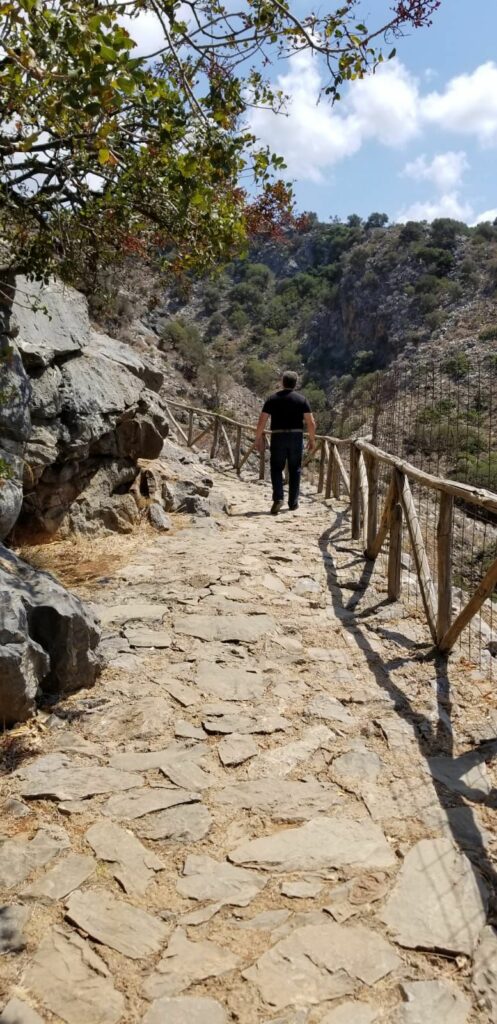 As I stood outside the entrance to the trail on that brisk morning, I regretted staying up late. I also regretted coming alone. The jokes about not being prepared were starting to no longer feel like jokes, and in the back of my mind I questioned the decision to do this solo. I stared up at the entrance to the park and could not help but recall the immortal words of Dante Alighieri: "Abandon All Hope, Ye Who Enter Here."

Of course, I tend to lean on the overdramatic side, so I squashed my anxieties and marched through, into the trail. 'I'm prepared,' I reminded myself. Unlike the Preveli Beach trip, where I was forced to walk up the mountain in flip-flops, I had purposefully brought hiking boots. I had packed not one, not two, but four bottles of water in a drawstring backpack. I had my trail mix, something I had to remind myself when I glanced longingly at the cafe that sat just outside the park's entrance.

It was a beautiful day, and though the sun was steadily growing hotter, the dry heat meant I felt all the benefits and none of the drawbacks of summer. I am a Florida native, and any hot day without humidity is a relief to me. As a solo hiker, I took my time. The last thing I wanted was to run into any issues while I was locked into this hike for six hours, and I was more than willing to take in the beautiful scenery as I went.

There is something very humbling about walking in a gorge. I've never felt smaller when juxtaposed with the awesomeness of solid rock walls that jut out on either side of me. Nature, in general, is where I retreat when I want to recenter myself. Hiking offers clarity, peace, and a chance to expend all the energy I acquire sitting in front of a computer most of the day. It's a break from a world with non-stop connection, a chance to be at one with my thoughts and the natural world. Samaria Gorge offered all of that, as well as the chance to spot one of the Kri-Kri, an endangered species of feral goat that calls the gorge home. I regretted the decision to leave my DSLR camera at home, thinking the extra weight would have made the trek more difficult. The beauty of Samaria Gorge was too beautiful to capture on a smartphone, no matter how well their technology has advanced.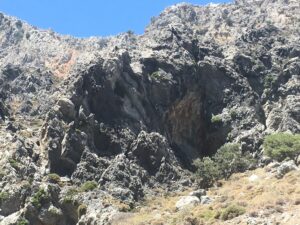 Samaria Gorge is a one-way hike that ends at the coastal town of Agia Roumeli. By the time I reached that town I was dying for a dip in the ocean, and I did not restrain myself. If you happened to be hiking the trail one summer day and saw a woman plunge into the waters of the Libyan Sea after just barely taking the time to remove her hiking boots… no you didn't. After refreshing myself from my six-hour hike, I bought a beach towel, dried off, and spent a good hour in a taverna. I had earned my lunch that day.
All I had left to do was wait for the boat that would return me to Sougia, where the bus, complete with air conditioning, would be waiting. I had conquered another hike, lived out a childhood dream, and I had done it all by myself. As I looked out onto the waters of the Libyan Sea, watching the dappled light reflected from the waves, I could not help but think…

It had been a good day.
By Katarina Kapetanakis