The quintessential element to summer holidays were always, at least to me, going to the beach. I adored the sun and sand, feeling the cool sea breeze on my face, enjoying the splashing of the waves as they playfully danced around me. I was always at home in the ocean. I always felt, therefore, that a summer without a trip to the beach was one that was wasted. Over the years, as I became more familiar with holidaying on Crete, I acquainted myself with many beautiful beaches, each a different experience, each new one more varied and wonderful than the last.
And then I visited Preveli.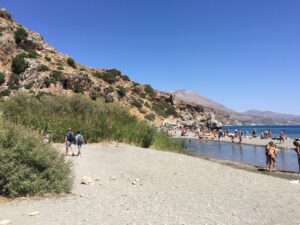 I had been to Preveli Beach once before, when I was very young. I remembered little, only that it had been a beautiful day and that I had not packed a swimsuit. I had walked around the area for a little while with my family before turning right around and leaving, promising one day to revisit it. I had only a faint impression of what the place looked like, and how to get there, but I longed to one day go back. Something about it called to me, perhaps that it was unfinished business, a beach I had left unexplored. Or maybe I was just restless in the villa and wanted to travel somewhere out of my comfort zone. I spoke about going with my family, and we made arrangements to visit the beach, though the discussion was met with some slight protest.
"Preveli? You really want to go to Preveli?"
"Yes. Why not?"
"Well…it's not for the faint of heart."
"I've been to a beach before. How bad can it be?"
"You'll have to wear comfortable shoes, and pack water-"
"It's settled then. We'll be up by 9. See you then."
Perhaps I should have paid more attention to the tone of the discussion before embarking on this journey, but I was filled with the impetuousness of my youth. I had my sights set on this small adventure, and I would see this beach if my life depended on it.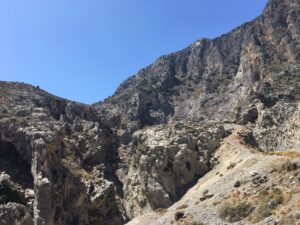 Getting to Preveli Beach is not, well, a day at the beach. Though it is a beautiful and popular destination for locals and tourists alike, is not easy to reach. It is a bit of a drive to the south side of the island, full of winding roads and looming cliffs. It is beautiful, however, and we stopped along the way to take pictures of these rockfaces. It seemed like a good start to the day, setting the tone for one of a peaceful, albeit long, drive. The parking lot is on a cliffside, and to reach the cove below one must traverse down a large flight of winding, stone cut, and often uneven stairs. They are carved from the side of the cliff and are lined not only with large pebbles but a blanket of brambles that blow onto it from the mountainside. It is advisable that one, before making this journey, wear thick walking shoes, as flimsy sandals or rubber flip-flops will not protect your feet very well. You can guess which shoes that I, in my infinite wisdom, wore.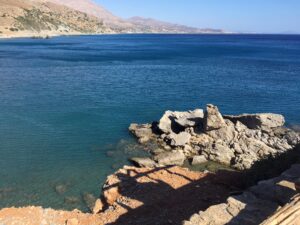 The path narrowed and widened seemingly at random, and as the hot sun beat down upon our little band, some of our party questioned the worthiness of this hike in relation to the beach visit. The beauty of the sea below, however, could not be denied, and we hurried on with the hope that once we reached the bottom we would be refreshed by the sea air. I pretended I was like the old heroes I'd read about in myths, climbing down chasms to explore new worlds and face new gods or monsters, and it made the climb down much more exciting, (and distracted me from all the thorns my flip-flops had embedded in them, at any rate). Once we carefully rounded the last corner, and carefully maneuvered our way down to the shore, we all agreed it was worth the work. Here, in the shade of the palm forest, the Great River (or Megas Potamos) meets the Aegean. The river is cold and biting like ice, but you must cross the small tributary to get to the sea. The ocean isn't much warmer, but from it you can look back onto the shore, marveling at the Theophrastus palm grove that makes you wonder if you haven't stumbled upon the Nile River, and aren't staying in Crete at all. In fact, once I worked up the nerve to submerge myself into that icy river and swim along its banks, I felt as if I had indeed traveled to another place, another time. I kept an eye out for crocodiles, though of course there were none. Around the bend, the river kept on flowing, but I did not follow it any farther. I climbed out onto the bank, shivering, and walked back to where my family had settled on the beach.
It was then that I noticed the geese.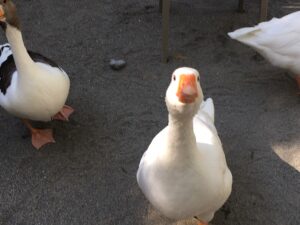 I suppose I should have noticed them sooner, but I was enraptured with the water and didn't think to look around the land any longer than it took me to lay my towel down. But the thing about geese is that they'll get you to notice them eventually. Loud, honking, and larger than I expected geese to be, these wild birds roamed up and down the shore approaching anyone who looked remotely like they could have food on them. Most of these beachgoers did, in fact, as there was a convenient café located off to the side of the beach. The geese that frequented (or perhaps, haunted?) these shores were not afraid of anyone, as they seemed to have learned long ago that if they did not get what they wanted by begging and through their own admittedly cute appearance, they would get it by force. Perhaps the gaggle of geese worries you, potential beachgoer? Don't be worried. These comical little mafiosos aren't really any bother, and most people tend to ignore their honking.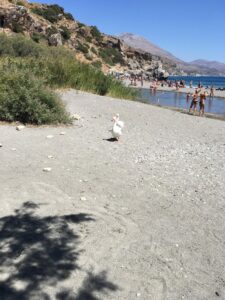 In a strange way, it seems to add to the charm of the liminal space that is Preveli Beach. It sits on the border of what you'd expect to see of Crete and what it would look like in a dreamscape, a land that isn't entirely rooted in reality and yet you find your feet buried in its sand. And if you find that you're ready and able to make the long climb back up the stairs, think of yourself as Orpheus, climbing the long and winding stairway to return to the real world, where reality and dream are divided in a way that you are used to. Only this time, I encourage you to turn around, to look back, to look behind at one of the most beautiful seascapes nature has dreamt up. Marvel at how far you've come. Then keep climbing. You only have a thousand more steps to go before you reach the top.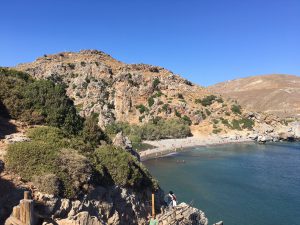 By Katarina Kapetanakis