Many people come to Crete in search of the perfect beach experience, and they certainly will have no trouble finding options. That's the beauty of an island vacation; every road leads to a cove, every path leads to a waterway, and every beach holds the promise of a good swim and plenty of sunshine. I've never been happier and more at peace than when I'm lying on the shores of a Cretan beach. The sound of the waves, the feeling of the sun baking my skin, the cool breeze that salves my budding sunburn, it all comes together to make up what is the highlight of my summers on the island. I've become something of a beach connoisseur during my time on Crete, and though there are almost too many beaches to choose as a favorite, Agia Pelagia has to be my number one pick.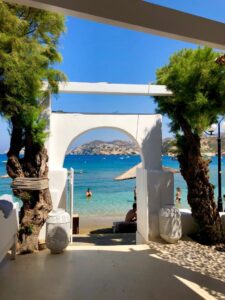 There are other beaches on the island that travel magazines or shows will highlight as being the beach-to-see, and I wouldn't disagree with them. As a visitor to Crete, you should experience all of the wondrous beaches to see there. But Agia Pelagia is so often overlooked, I felt that I should highlight the beach that has brought me some of my happiest days. (And, it helps that Agia Pelagia is located only about ten to fifteen minutes away from all of the Wine Dark Villas).  Agia Pelagia isn't necessarily a small beach, but it certainly isn't a large one. The beach is nestled in a semi-circle of cliff-side, where the sun shines perfectly down into the center. The ocean here is calm, with a blue that rivals the clearest of sapphires, with waters so cool you'll have forgotten whatever discomfort the sun has brought you up to then. The water of Agia Pelagia is like glass, so clear and beautiful that you'll see every strange and colorful fish as they come to say hello, or perhaps to give a tentative nibble. Don't worry, though: all these fish are quite small and quite harmless, and many are a marvel to look at!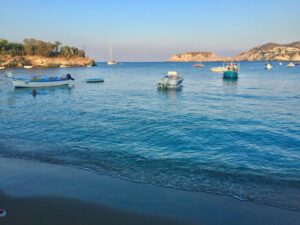 One of my favorite things to do is to dive and explore the many boulders, crevices, and small caverns that lie on the bottom of the ocean there. With a good pair of goggles and an average swimming ability, you can explore a whole new underwater paradise, watching the fish dart in and out between the rocks, seeking out the hidden places where the sea urchins lurk, imagining that this world is one that you can be a part of. It is a dream under that water, and one you can prolong by hopping on a charter and scuba diving into deeper parts. If you're the daring sort who prefers thrills to relaxation, there is a short but steep path, for those who aren't near-sighted or those not surefooted, that leads to a ledge where natives and tourists alike leap into the sea. When you feel like emerging from the depths of the ocean, you can relax on one of the lounge chairs that they have set up for rent along the sandy beach. From there you can relax, sunbathe, or take refuge from the hot Cretan sun in the shade of the umbrellas, sipping on drinks from the café behind you.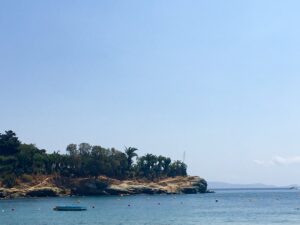 And speaking of that café, it's worth noting that the taverna Almyra is the perfect place to get some lunch (or dinner) at Agia Pelagia. The taverna is split into two halves, the first half a sort of club where you can dance, drink, or lounge while you enjoy the day with your friends. The second half is an excellent taverna that is fairly quiet compared to the first half, with modern twists on Greek cuisine. From delicious freshly marinated anchovies mixed with fresh vegetables, tuna sashimi, unique takes on hummus and tzatziki alike, to traditional fare like lamb-chops and grilled salmon. Don't let the twists on the cuisine fool you: the Cretan tradition of providing good food and hospitality runs strong in this little seaside taverna. But for all of this, my favorite thing about Almyra is how open this taverna is, and how all of the tables provide an excellent view of the beach. In fact, I highly recommend eating there come sundown; the sunsets at Agia Pelagia are so colorful and vibrant that they almost serve as a reminder to me of how rich and colorful life on the island of Crete can be, and how beautiful life can be all on its own.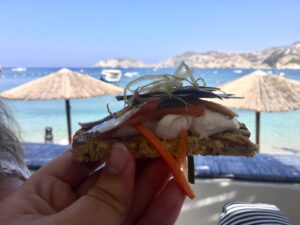 Coming to Agia Pelagia is the quintessential Cretan experience for me. It's the escapism from the busy day-to-day, losing myself in the waves and the sand and the sun, letting nature work its healing wonders on my stressed mind. To be rejuvenated by the lovely Agia Pelagia is to be rejuvenated by the best of Crete, and I hope you take the time to experience this wonderful beach in all its glory. I will leave you with a thought by Cretan author Nikos Kazantzakis, who can sum up how I feel much more articulately than I: "I felt once more how simple and frugal a thing is happiness: a glass of wine, a roast chestnut, a wretched little brazier, the sound of the sea. Nothing else."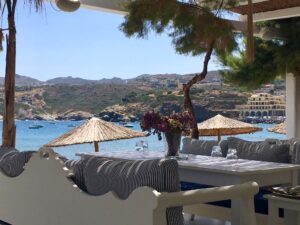 By Katarina Kapetanakis