Considering the vast number of their species, I never spared much thought for the humble snail.

I've eaten plenty of escargot in my life without giving them a second thought. I have indulged myself on Cretan snails on several occasions, enjoying each savory bite. Still, for all my chomping and chewing, I did not spare much thought for the origins of the tiny creature mashed between my teeth. It's not that I harbored any ill-will for them. I simply was not in the habit of thinking about snails at all.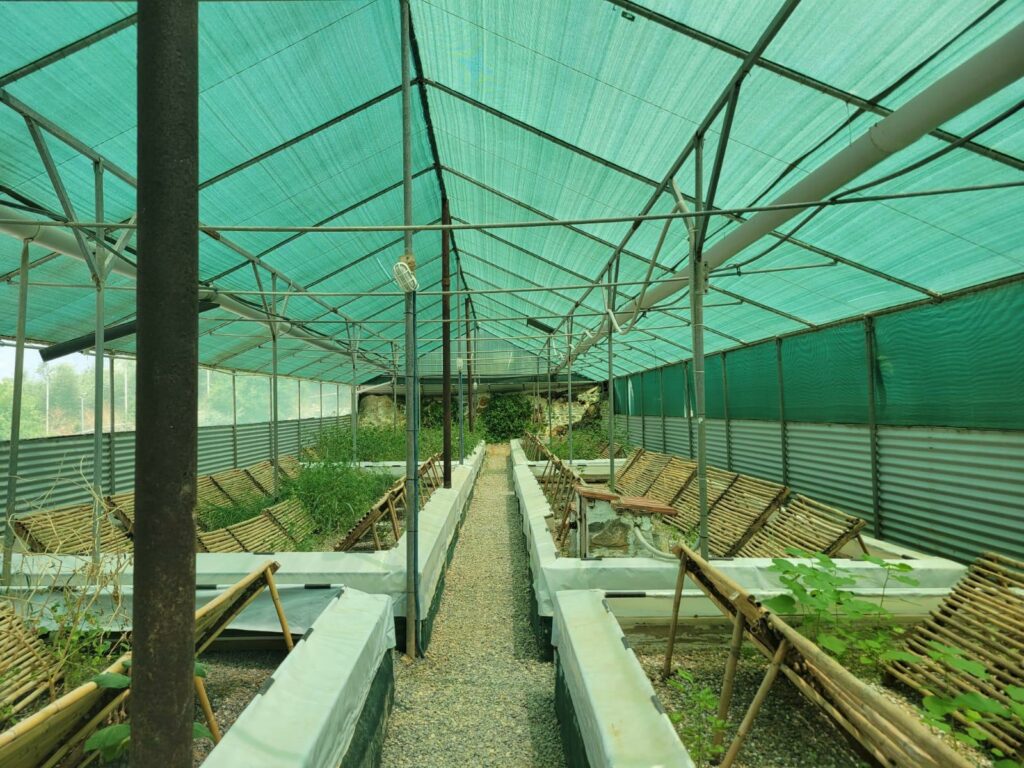 That was to change in the summer of 2023. My sister and I were exploring the small beach town of Ammoudara, on the outskirts of Heraklion, when we first noticed the signs. They were delightful, hand-painted signs advertising Snail Farm and Fun, in the region of Tylissos. I had heard of the concept of a snail farm before, during a television special on a French snail farm, but had not thought about the concept in years. I didn't realize that Greece, Crete especially, would finally give me the chance to investigate this curiosity. I made plans with my sister to visit the farm the very next day.

From Villa Bella Mare, where my sister and I were staying, it was a leisurely twenty minute drive up into the mountains into Tylissos. While the drive to Snail Farm and Fun was on paved roads for 98% of the drive, the final stretch was a very brief, well-maintained farm road that my grandfather's 30-year old Honda was thankfully able to manage without issue. It was well marked with more of the signs, reassuring us that we were indeed headed in the right direction.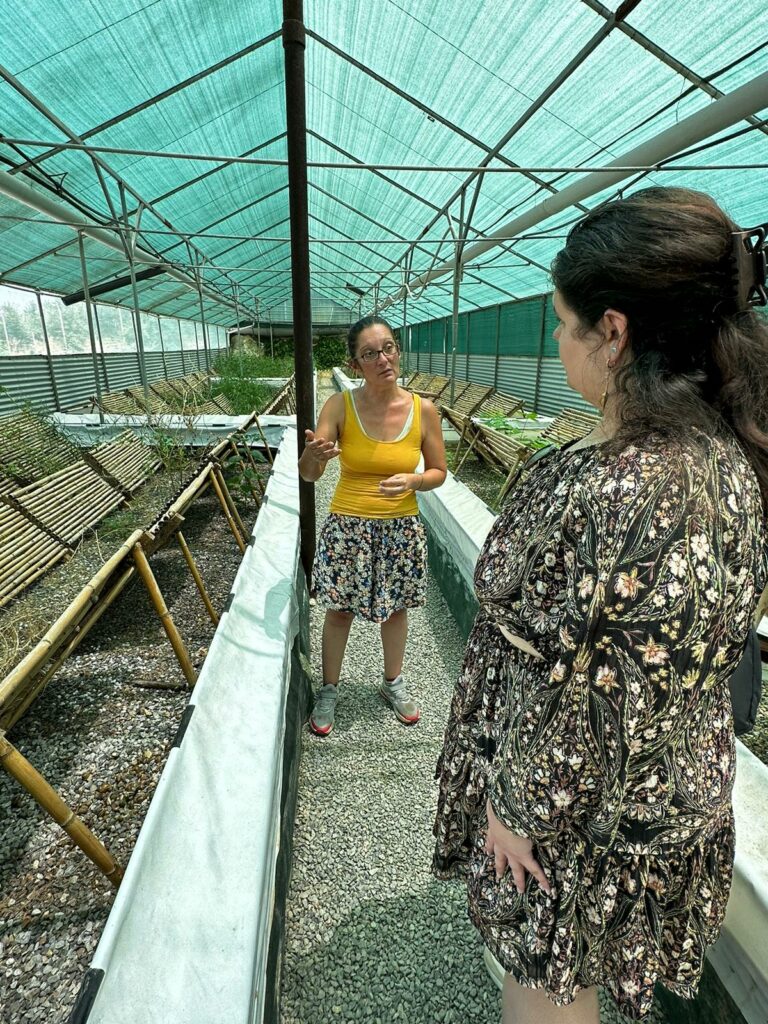 We met Vaso and her husband Stavros, the dynamic duo who own and operate the farm, as we pulled in. Vaso directed us where to park, and greeted us warmly. My sister and I glanced around the peaceful little farm, quiet except for the constant buzzing of the cicadas, and realized that we were the only visitors. I nervously asked if they were open to the public that day, as Google Maps had lied to me before when it came to operating hours. We had seen the sign, I told her, and we wanted to learn more about the snails. Vaso gave us a very enthusiastic 'Of course we are open,' and without any fuss led us into the shaded building where the snails were kept.

The snail enclosure was a long shed, with irrigation pipes designed for misting all above us in a grid. Under the green filtered light through the plastic siding, I saw rows and rows of V-shaped structures made of what I guessed was bamboo, the rungs spaced out an inch or so apart on each structure. There were about six long planters, with each planter containing about seven wooden structures, nestled amongst dirt and vegetation. Vaso led my sister and I down the gravel path in the snail enclosure until we came to the center, where she told us that, unfortunately, we wouldn't see much snail activity that day. I asked her why that was, and realized that I had not actually seen any snails since I entered.

It was then that Vaso bent over and plucked what I thought was a stone from within the floor of one of the planters, and held her hand out to me. Sure enough, what I had assumed to be a rock was in reality a snail shell.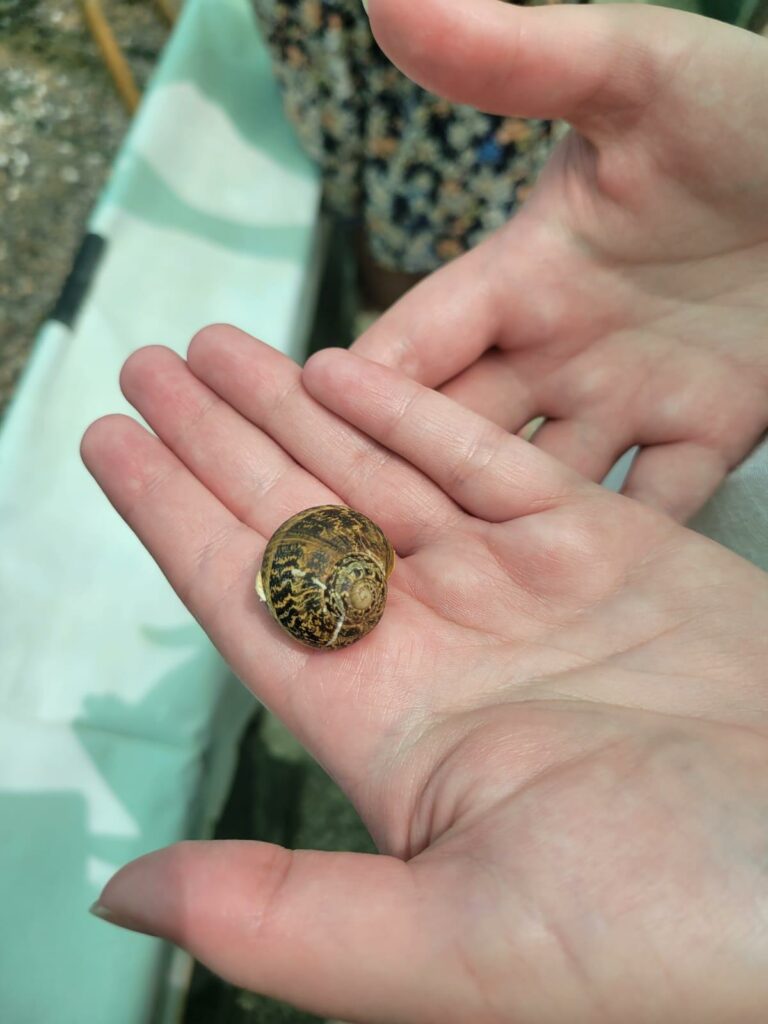 "They shed their shells, like hermit crabs?" I asked.

"No. This is their hibernation period. Look," Vaso said, and flipped the shell over. Where I had expected a tiny, gelatinous body, was a hard, firm membrane covering the hole of the shell. "Snails actually hibernate from May to September, and as they sleep they add layers to the membrane. It protects them as they rest. You can tell how long they've been sleeping by how thick the membrane is." To demonstrate this, Vaso pushed on the membrane of the snail in her hand until it came away, and held it up to show us the thickness of it. She pocketed the snail to cook it later, as it would not be able to reseal itself.

The Cretan people have a rich history of using snails as food dating back to the ruling Minoans. Though many consider snails a delicacy, the Cretans were kept alive by snails during periods of political turmoil and famine. When the Minoans starved after their civilization collapsed, they were not only able to survive on fish, but the snail. During World War 2, when Crete was occupied by the German army, the people of Crete staved off starvation by eating wild snails. They are a staple of Cretan cuisine, and many snails used by restaurants are still sourced from the wild. Farmed snails are often exported to restaurants on the mainland, where Cretans who have since migrated still crave the flavor of home. The spiral of the snail shell became prominent in Cretan art and jewelry, becoming a symbol of life, eternity, and synonymous with the famed Labyrinth of mythology.

You can imagine the awe with which I stared at the little thing sitting squarely in Vaso's palm as she told me all of this. I had never put much thought into the creature's existence before that day, but I realized that, ironically, this little invertebrate was the backbone of a people.

Vaso pointed to the clusters of snails that lay on the ground around the poles and clung to the underside of the V-shaped structures. She told us that snails tend to group together when they hibernate for protection, and in the wild hibernated together on the barks of trees where they will be camouflaged. The enclosed green snail house acted in a similar fashion to protect the snails from threats of birds or slugs that could take advantage of them at their most vulnerable.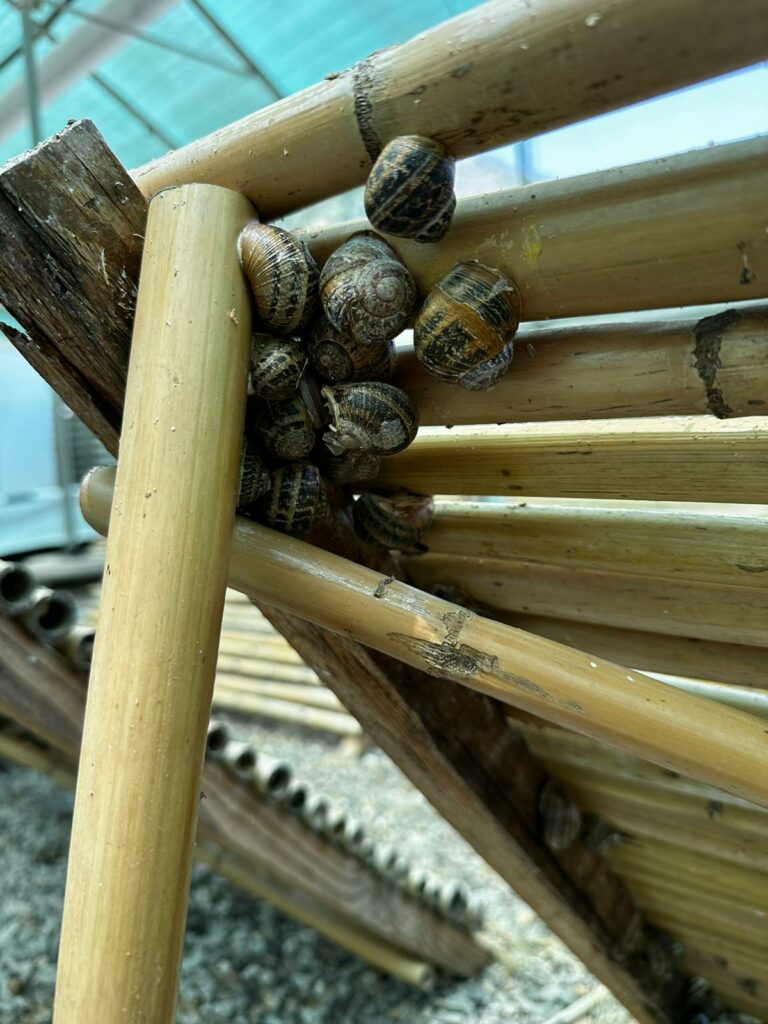 "Slugs eat snails?" I asked, shocked that a creature I assumed was related to snails would so brutally turn on its brethren.

Vaso emphatically insisted that they do, and that they were not, as I had ignorantly assumed, brethren at all. Slugs are often a worse predator for snails than even larger animals, gooey terrors that they are. Vaso then pointed out the tiny white circles I had mistaken for gravel and showed me that they were, in fact, snail eggs. Snails are hermaphrodites, and after mating both parents lay a clutch of anywhere between 60-100 eggs. It takes a snail 30+ hours to lay a clutch, during which the snail is vulnerable to attack, (and I was beginning to question when they weren't vulnerable, for all the good their shells do them). The infant snail grows exponentially, growing from the size of a pinhead to a pinkie nail in less than a year. Their shells, which they are born with, act like a tree stump, in that you can tell the age of a snail by how large their shells grow.

My sister then asked about the diet of the snails, and Vaso explained that they eat mostly vegetation, but are extremely picky. For one, snails will refuse to eat food that is red. If they eat apples, or even eggplants, they must be cut open, and even then the snails only eat the white fruit inside. They will not touch the skin at all. Her snails have a distaste for spinach, and most herbs, but make an exception for parsley. And she's noticed, through years of trial and error, that their favorite food is zucchini.

The love Vaso has for her snails is apparent when she gives you this tour. She and her husband have been farming snails for 13 years, and they constantly experiment with finding the best ways to help enrich the lives of their 'livestock.' For the past three years, in fact, Vaso has taken to moving her snails to an outdoor enclosure just next to the building where they hibernate, so that they may spend their waking hours in an environment as close to nature as possible. There they can explore rocks and vegetation, eat, exercise, and even mate. Vaso says that, like cows, the act of going to a kind of pasture is enriching, and though they don't possess enough neurons to truly 'feel,' it makes the snails seem happier. And happier snails lead to a better crop.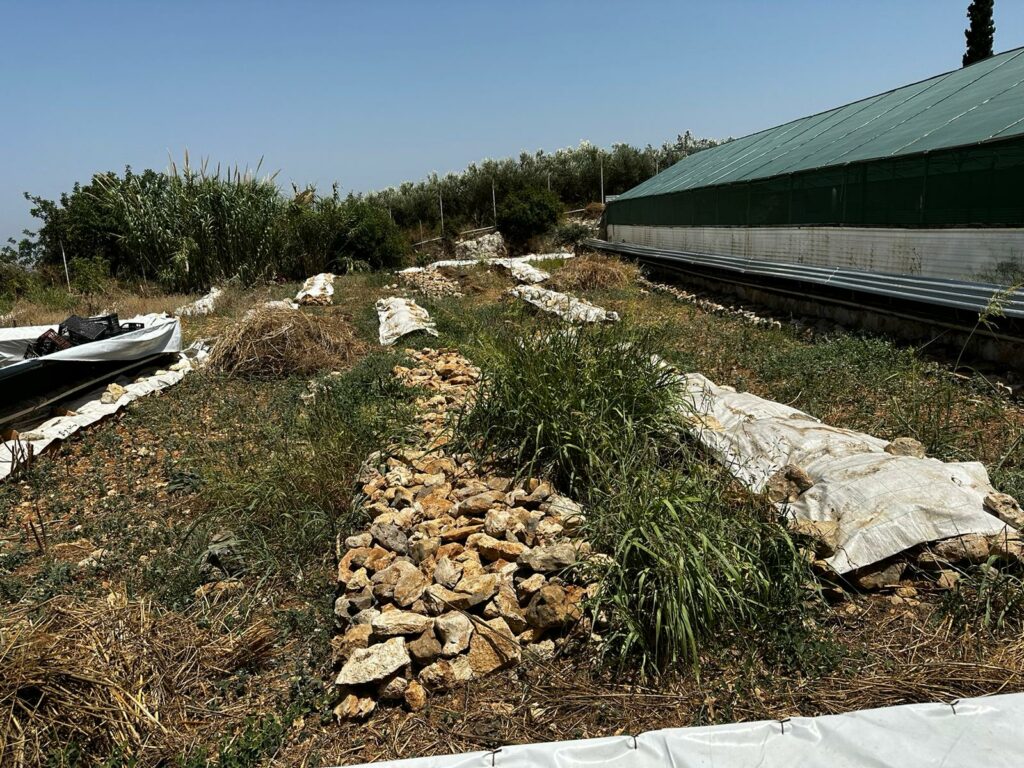 Vaso's farm exports anywhere between 2 and 2.5 tons of snails a season, (as snails do, in fact, have a season). In order to keep farming, she must keep at least 200 kilos of snails in order have enough of a population to make more snails. Vaso explained that you have to wait a couple of years before the snails are ready to eat, as they must be big enough to be sustainable. Though the previous two seasons had not been as good as they'd hoped, Vaso and Stavros still loved their snails, their farm, and had hope that this season would be better.

After the tour, we spent a brief period enjoying the shade and the cicadas with our hosts, who offered us a refreshing glass of water to take the edge off of the oppressive heat. We chatted about life and mundane things for a while, until two additional families arrived, eager and excited to see the snails. My sister and I stayed briefly to finish our conversation with Vaso and Stavros, but though we were welcomed to stay and relax while Vaso gave her next tour, we declined and let her get back to work. Before I left I confessed to Vaso that I was a writer, and I asked permission to write about her farm. She consented, and we laughed together about how I had been acting as a 'spy' all afternoon. As I drove away, I felt contentment coupled with a deeper appreciation not just for the Cretan snail, but for the warmness and kindness of the Cretan people.

Snail Farm and Fun was one of the most incredible experiences I had during the 2023 summer, and it wasn't just because I learned about the fascinating life of a snail. It was more so that I had gained a deeper appreciation for the little things that exist on this earth, thanks in large part to the hospitality I experienced at this snail farm. I realized that this farm exemplified what was special about Crete: A wonderful conversation between strangers at a snail farm, a moment in the shade, a smile… and yes, the snails.
Importance, in truth, is stored in the little things.
By Katarina Kapetanakis