Those who know me best know that I am unable to resist a kitschy tourist trap when I see one. I can't help it: the minute I know it's there, all of my mature appreciation of art and culture flies right out the window, and all of my thoughts are consumed by an almost primal desire to do something dumb for the sake of the doing it. I can't even claim that it's done ironically: I genuinely enjoy exploring tourist traps. I love finding joy in roadside attractions, in things that may be more expensive than they're worth but are nevertheless enjoyable, in things that, while on the surface a dedicated traveler may consider a waste of time, I consider an experience. I'm reclaiming my joie de vivre one wacky, weird thing at a time.
Which is how I came to be a patron of the Doctor Fish spa.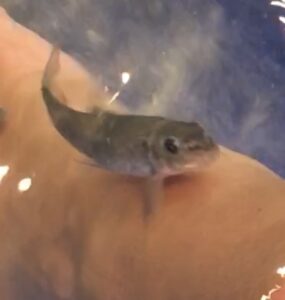 It is, as the name suggests, a fish spa. I had never heard of such a thing before, and had never even seen one in America, (although some people have informed me that they do indeed exist). The premise is this: the unsuspecting tourist, lured into the spa by the employees looking for anyone who'll bite, is asked to first rinse their feet off in a sort of shower. Once they've rolled up their pants and handed over their sneakers, the tourist awkwardly climbs up onto a padded bench and unceremoniously dips their legs into tank containing twenty or so relatively small fish. For the next fifteen minutes, your legs are suspended in water, as these fish nibble the dead skin away. After your time is up, you awkwardly waddle back to the shower, wash your feet, and go about your day. The end result is supposed to be that, now all the dead skin on your calves and feet has been eaten, your skin has been exfoliated and is silky smooth. Bizarre? Yes. Hygienic? Possibly. The jury is still out. Just weird enough for me to want to try it? Of course.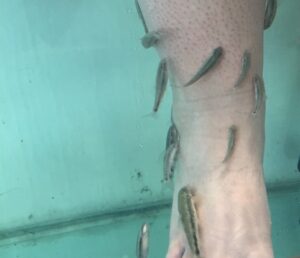 For months, I had seen the store, as I had to walk past the place in order to get to Heraklion's pier. I would walk down the main thoroughfare, glancing at it wistfully. Every time I asked my family if they'd like to try it out, they looked at me as if I had asked if they had wanted to try some sweet bread. It wasn't easy, as I walked up and down this street often, buying souvenirs for friends. Each time I passed by the fish spa, the employees working the crowd would lock eyes with me. They knew. They could see it in my eyes that I wanted to enter, and they used that to their advantage. But alas, I couldn't cave to my desire to stick my feet in a bucket of fish. I had places to go, people to see. The fish spa…would wait.
And then the end of my Summer arrived, and I found myself full of the usual bout of end-of-vacation blues. I didn't want to leave the crystal-clear Cretan waters, the sunshine, and the like. I didn't want to give up gyros and freshly cooked lamb. I was in a slump, and only one thing could lift my spirits: a final high note, one last ride, one final experience that would be the cherry on top to my Summer. The fish spa's hour had come. That afternoon, my family and I headed to the fish spa, not quite sure what we were in for, but aware enough that we were going to have…a time.
Let me start by saying, don't wear a dress to the fish spa. Climbing awkwardly up a bench that's just a little too high for you, only for you to need to scoot down the bench to your allotted tank, makes a dress a hindrance. Secondly, definitely go with other people. Bring friends, family, distant cousins, acquaintances you made on your cruise, your yiayia, what have you. It is so much more fun going with people than by yourself. Not only does it distract you a little from the agonizing tickling sensation around your feet, it is the highest form of entertainment. I have three or four videos stored forever in my phone, which I watch sometimes when I'm feeling down, of my mother on the verge of screaming as the fish tickle her relentlessly. My brother mocks her mercilessly, bragging about how the fish's tickling hasn't troubled him in the slightest, while my sister and I have cast aside decorum and burst into uproarious laughter. Two random strangers in the video stare at us like we have grown three heads. It's one of my favorites.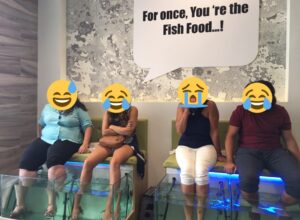 I was aware the feeling would not be…comfortable, but I wasn't prepared for how strange it would feel. The farther up your leg the fish latch onto, the easier it is. They're tolerable, those fish, the chill dudes of the tank. I liked them. They didn't activate my fight or flight response. The fish that latched on to the top or sides of my actual feet were on thin ice. There was definitely a strong sense of discomfort produced by their presence, but those weren't the ones that sent me into peels of tickle-induced laughter. That honor went to the little bastards who targeted my toes. If you've ever wanted to know just how strong your stoic endurance can last, buy yourself a fifteen-minute session at a fish spa, and see how long you can keep a straight face. Extra points if you can keep yourself from squirming. I think the hardest part of the whole thing was forcing my legs to stay still, instead of kicking them about like instinct demanded. But I survived, as did my poor mother, who vowed to never visit a fish spa again.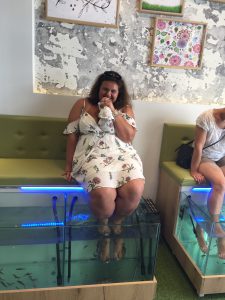 I didn't stick around for a manicure, which was one of the many other spa services Doctor Fish offered, but the next Summer I visited Crete, I went back to the spa twice. What can I say? There's a satisfying kind of schadenfreude that comes from bringing your friends to a torturous fifteen minutes at the fish spa.
Oh, and my skin? Perfectly exfoliated. Beauty isn't pain…it's a swarm of tickling fish.
By Katarina Kapetanakis