If I asked you what the quintessential Grecian food was, you'd probably run the usual gamut of foods: moussaka, grilled octopus, stuffed grape leaves, lamb, all wonderful examples of the deliciousness of Greek cuisine. But I would be remiss in my duties as a travel blogger if I didn't take a moment to exalt the wondrous gyro. Perhaps places other than Greece have made the gyro seem commonplace. The first few years of my life, I only ever got gyros from fast food joints that didn't exactly put any extra time or attention into their meat. Are you supposed to expect craft from them? I didn't, and my lack of expectations led to a life of thinking that my neighborhood junk food place could provide me with a satisfyingly enough gyro that probably tasted the same all over the world. But if you, as readers, have not learned anything from my chronicles, you can guess that my first assumptions of these things are usually proven wrong. It's almost my modus operandi: make a seemingly educated guess, get immediately proven wrong.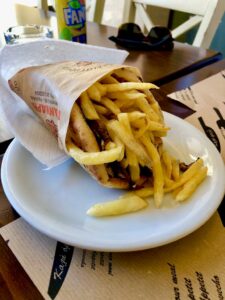 If you have been so unfortunate as to not know, let alone experience, the deliciousness of a gyro, allow me to make you pine wistfully for this sweet, sweet food. Gyros are usually made with pork, (though chicken or even lamb are sometimes alternative options), which is seasoned, sliced and stacked to form a cone. Then, as the name suggests, the cone is cooked using a vertical rotisserie, and pieces are sliced off of the cone and into a pita, along with onions, tomatoes, fries, and tzatziki. It's a heavenly food that really hits the spot when you're on the hunt for something quick, delicious, and not a cheeseburger. It's moist, crisp, and full of flavor. But in a place where gyros are plentiful, to say the least, where should you turn to get the best one?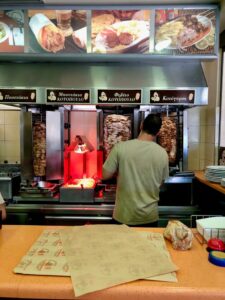 I was introduced to O gyros tou Giannari by my cousin, who, upon picking me up from the airport one visit, announced that he had found the best gyros on the island. I wasn't skeptical. My cousin knows everyone and everything that happens on Crete, so I was optimistic that the gyros were delicious. I wasn't sure that they'd be the best, but I had no doubt that they'd at least beat what I could get back home. I told my cousin I'd be more than happy to go get gyros when I wasn't suffering from jetlag, but the rest of the family, who'd arrived days before me, wanted to surprise me with food and were already waiting for me at the restaurant…so off we went.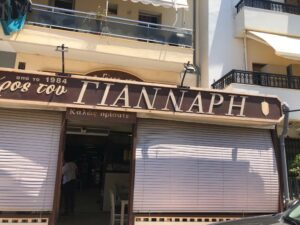 O Gyros tou Giannari, (or  O γύρος του Γιάνναρη if you're reading it in the Greek alphabet), has a pretty unassuming front. It's not exactly easy to get to if it's your first time trying to navigate the less touristy areas of Heraklion, but don't be scared off. If you've got google and a GPS, you'll handle yourself just fine. You'll know you've made it when you come across a tawny awning, that also happens to have a cartoon baby as it's mascot. No, I'm not sure why the baby is part of the brand. I never asked. The baby is happy to be there, gleefully devouring a gyro, perhaps a sign that you too shall soon be in the throngs of the kind of enthusiasm about food that you used to have, as a small child. Or maybe I'm reading too much into it and there's just a baby mascot. Don't dwell on it.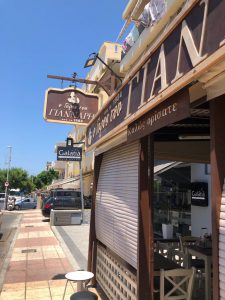 It's a simple enough place on the outside, a few tables and chairs sit under the enclosed awning, with a fridge full of drinks that you can grab at your discretion, (though it should be noted, they are not free). The inside is smaller, though it has a few tables, and along the very back has a wall lined with puzzles, games and brainteasers for families with children, (or perhaps those whose inner child really wants to solve a wooden Rubik's Cube). It's a cozy, family-owned operation that takes great care with their preparation, ingredients, and their customers. It should be noted that, when I arrived at the restaurant, my party was quite large, at least for Europe: we were six in total. Despite the hassle that can come with a larger party, the restaurant and staff was incredibly kind and accommodating for all of us, with impeccable service to match. (In turn, my family and I tried to be as helpful and out of the way as we possibly could).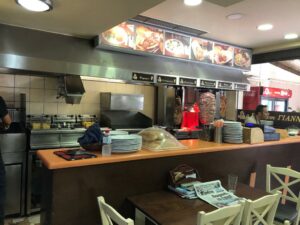 Though there's a variety of foods you can order at Giannaris, I recommend one of two things: the pork gyro or the chicken gyro. Sure, grab a salad while you're there, if you're feeling a bit health conscious. Down some beer. Order some fries. But know, in your heart of hearts, that you're here for one thing: the best gyros on the island. I am not exaggerating. I do not know what Giannaris uses to make their pork and chicken so perfectly seasoned, nor do I know exactly how long they allow their vertical rotisseries to rotate before they begin to slice off their meat, which is perfectly balanced between moist and crispy. All I know is that their gyros are the most mouthwatering food I've had in ages, a heavenly pocket of meat, veggies, fries, and tzatziki. Did I not mention that they include perfectly cut and cooked fries in their gyros? It's one of the multitude of things that this place does better than all others on Crete. I don't tend to pursue a French fry when I'm in a foreign country, but the fries inside a Giannaris gyro are some of the most incredible fries I've ever eaten. It's a perfect compliment to the meat and sauce within, and boy do they stuff them in there. You may be forced, like my mother was, to remove some of them and eat them separately. Personally, I find this a cowardly action: unhinge your jaw, and make sure you can taste all of that meat, tomato, fry, and tzatziki in a single bite. Think of it like sushi, how every ingredient in a roll is there to perfectly complement each other, creating a burst of flavor and the exact mouth feel you expect from the food. This is what a gyro should be.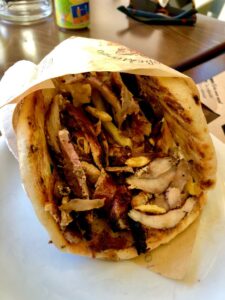 Giannaris is a gift from God to Crete, the world, and to me especially. Even now I'm salivating as I remember that sweet, sweet first bite. I hadn't known that gyro meat could taste that way before, perfectly crispy without being overcooked, moist without being under-cooked, the perfect amount of tzatziki (which is a lot), complete with a cooked pita instead of a cold one. My eyes have since been opened, but in some ways I bemoan this. It was as if I had tasted from the fruit of the forbidden tree in Eden, and now I have been cast out upon learning something I shouldn't have. I spend many of my days back home dreaming of my next trip to Crete specifically so I can purchase these gyros for twelve straight days. I think I may have driven my family a little crazy asking for them almost daily, and on days when I could not have them, I knew then why women in Victorian England could take sick and die all because they were separated from the one they loved.
I'll tell you a true story: my cousin has a young daughter, who loves these gyros as I do. One day, as my cousin was driving her home from school, she started to display signs of illness, holding her stomach and moaning. Understandably concerned about his little girl, my cousin pulled over.
"What's wrong?" He asked. "Are you sick?"
"Yes," she said gravely.
"What do you need?"
"I need……a chicken gyro….."
"What?!"
"I need a chicken gyro."
Though I cannot imagine the strange mixture of parental relief and irritation, I smile thinking about this incident all the time. And, if you're wondering…yeah, she got her chicken gyro. It was the only thing that would make her better, after all.
By Katarina Kapetanakis