I am not a person who usually craves bananas. Maybe I just tend to contain the recommended daily dose of potassium naturally, and have never needed to seek it out from an outside source. Or maybe I just don't crave bananas. That's not that weird. I enjoy a good banana milkshake every now and then, and those little fruit-shaped candies that come from vending machines that are shaped (but most certainly do not taste) like bananas are fine, and banana bread is great! But I don't seek out bananas like I do other fruits, and I'm perfectly okay with that. This is just how my life is, I assumed. Some people are banana people, and some just aren't. I fell into that latter category for no other reason than it just happened to be how life was.
My cousin said it was because I'd never had a decent banana.
"You have never tried bananas like the ones near Vai."
"The beach?"
"Yes. There is a man who has a fruit stand, right before the turn to go to the beach. He sells the most delicious bananas in the world."
"Those must be some bananas."
"You have to taste it to believe it," he said. "He always sells out early."
"So, you're saying that there's always money in the banana stand?"
My cousin didn't get the pop culture reference, but that was alright with me.  I wasn't exactly foaming at the mouth for those curvy yellow fruits, but I didn't mind taking fresh fruit to the beach. I was also very excited to visit Vai, which I had heard was an incredible beach, but is, alas, a story for another time. If you think I can't tell an entire story about a banana stand and how the banana man thwarted me, you'd be wrong. So wrong.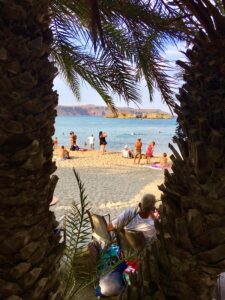 The drive to Vai was about an hour and a half from where I was staying on the island of Crete, enough time for me to observe the beauty of the natural landscape of the place, and take some blurry photos on my phone. I slumped back into my seat after about fifteen minutes of failed photography, (though I guess, with the right filter, it could have been hipster-Instagram worthy), and closed my eyes. Car rides longer than 20 minutes will put me right to sleep, and the lull of the van as we rose and fell and curved with the land was the perfect sedative. I felt blissfully at peace, with the sunlight floating through the crack of the open window; if I had been a cat, I couldn't have been happier.
The car eventually slowed, causing me to stir and look out the window, expecting to see palm trees and a wine-dark sea…and instead, saw a dirt road, and to the left of me, a shack. Or maybe a stand, but a stand that was larger than usual, of questionable structural integrity. It looked as if it had been painted at some point, but had definitely seen better days. Two or three different families were standing around, picking up fruit and asking an elderly man (who was sitting behind the stand) questions. My cousin, seeing I had arisen from my slumber, handed me some euros and told me to buy some of the bananas.
"Wait…why me? I don't speak any Greek."
"That's okay, lots of tourists stop here. You'll be fine."
I looked around at the shabby stand and found myself doubting very highly that tourists frequented this place.
"But how many bananas should I get?"
"I don't know. Try to get a kilo."
"That sounds like…a lot of bananas…"
"It's not really that much."
"I think I should—"
"Just go get the bananas," said my sister, who up until now had been quietly sitting in the back seat, minding her own business. She was in the part of the car that didn't have quite as good air circulation as the rest of us, and was eager to get the bananas and get into the water. I felt like telling her to get out of the car and buy the bananas if she wanted them so quickly, but I sighed, put on my brave face, and approached.
The "conversation," if you could call it that, was as awkward as I had expected it to be. I didn't really know how to ask for a kilo of bananas with any fluency, as the Greek vocabulary in my arsenal consisted of "γεια σας", "Καλημέρα", and "κοτόπουλο" (due to me temporarily owning a pet chicken while on Crete, but that is a tale for another day). But the man running the stand knew enough to get my money, and I successfully made off with maybe 6 or 7 bananas, noticeably less than how many bananas made up a kilo in my mind. It was of no consequence: the fruit was purchased, the bananas were gained, and finally we could continue on to our beach day.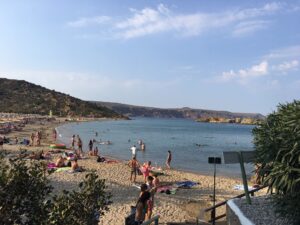 The beach was a wonderful time, with soft white sand, clear water, and sunshine galore, with a gorgeous palm forest stretched out behind me and to the left of me. I felt like I was becoming one with the beach as I let myself cook in the hot rays, and I wondered how feasible life would be as a tent-dwelling beach bum, when my musings were interrupted by my cousin handing me a banana. I was still skeptical of these bananas tasting anything other than how bananas normally taste, but I obliged him, and realized without question that I had tasted forbidden fruit. My cousin may have had a point when he told me I'd never had a decent one. These were sweeter than the bananas back home, so much so I'd almost classify them as being rich, and yet I felt refreshed after I ate them. They were the perfect complement to a day at the beach. They simply tasted like Summer.
I had to have more.
When we were packing up the car with our damp towels and beach covers, I asked my cousin if it wouldn't be too much trouble to stop once more at the stand.
"I don't know if he'll have any left, it's late in the day."
I had not considered this, but by then my thoughts were consumed with the primal, caveman-like desire of "obtain more bananas." I had to try, damn it. I had to try. My cousin shrugged, and two minutes later he once again pulled into the makeshift 'parking lot' of the fruit stand. I got out of the car with the desperation of someone trying to hurry up and abscond with the last bits of fruit in a shop's possession while poorly disguising said desperation by trying and failing to check their speed. I glanced at the place where the bunches had been hanging before: success! There were two bunches left! I sped-walked over to the Banana Man, and asked him if it wouldn't be too much trouble to buy his remaining stock.
"No, I can't."
I wondered if they had been sold, but the answer was…much more perplexing to me.
"I cannot sell them to other people if you buy. I lose money."
In my mind came a flurry of thoughts that I had neither the ability or knowledge to convey. But if you sell all your bananas to me, you make the same amount of money that you were going to make if you sold them to other people. I just…I want to buy your bananas.
"Okay…can I have half of them?"
"Half?"
"Ah damn—can I take just these?" I said, gesturing to one bunch.
"No, I'm sorry. I need to sell to other people, or I make no money."
But—but I'm still giving you the same—please just let me buy your bananas.
"Can I have three more bananas?"
He shook his head.
"Two more?"
He shook his head again, and I heard the desperation creep into my voice.
"One banana?"
You can probably guess how that ended. I looked around at the stretch of empty road, and at the only other people at the stand, a Dutch family that were examining some dragon fruit that quite frankly also looked just as good. But I couldn't leave now. I couldn't be thwarted by the Banana Man. How can you get a customer hooked on your product and then deny them another purchase? The gears in my head turned and clanked about as I tried desperately to string "γεια σας", "Καλημέρα", and "κοτόπουλο" into a sentence that would convey how badly I wanted, nay, needed, those bananas. But while I struggled and tried to make the pieces of this grammatical conundrum fit, the Dutch family glanced at, admired, and purchased the lovely bananas right out from under me, Banana Man smiling the entire time.
My eyes narrowed, my mouth opened just a tad, and in my mind, I could not help but wonder if it had indeed been personal. None of it mattered though. I was left banana-less, and, bereft, I turned back to the van, where my cousin looked at me, confused.
"I thought you were going to buy more?"
"I tried."
"What do you mean?"
"He wouldn't sell them to me. He said he would lose money if I bought them all because he couldn't sell them to any other beach-goers."
"Oh. Yeah, that makes sense."
I couldn't do anything but gape at him, so I did for a brief time, wondering just whose side my cousin was on here. We could be eating bananas right now. Beautiful, sweet, magical bananas. The best damn bananas in the world. And yet…here we were…empty-handed. And empty in soul. Had I made some sort of pact with an otherworldly banana salesman who operated on rules based in a supernatural plane and not our own? Was I now paying for my pride, my belief that bananas were nothing special, until some Greek trickster banana god thought I should be punished for my folly? Maybe. Probably. I like to think so.
So, if you're planning on taking a trip to Vai, and you come across a lonely looking fruit stand of questionable integrity, with maybe three other people clustered around some bananas…make a stop. Buy some bananas. Enjoy them. And don't, whatever you do, take them for granted.
By Katarina Kapetanakis