When my cousin told me, out of the blue, that he had found the best sushi I would ever taste, I did something many of you would consider to be…rude.
I laughed in his face.
After all, when I say the Greek islands, does Asian cuisine come to mind? No, it doesn't! The kind of fish you'd find in the town of Heraklion is not the same style as that you'd find in Tokyo. Frankly I figured I wouldn't taste anything but lamb, chicken, and gyros for several more weeks. I had planned to hit my favorite sushi restaurant the very day my plane would touch American soil again, where I would treat myself to salmon sashimi, a tuna tartar, maybe some tamago, and the like. I loved the Cretan palate, but I would be lying if I said I didn't dream of the occasional volcano roll. So how could I expect the Greeks to enjoy the taste of raw fish, since every other restaurant I'd been to (though their fish was delicious), cooked theirs? I wasn't under any impression that there was a market for sushi on Crete.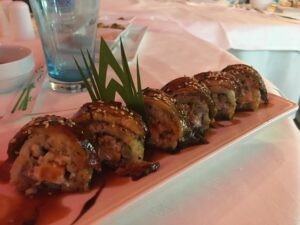 "Trust me. You've never had sushi like this."
"I'll believe it when I taste it," I said.
My cousin didn't seem to understand my skepticism. My siblings, who were just as Americanized as I, couldn't understand how our cousin thought that he had found sushi on the island. My brother rolled his eyes and was ready to write off all my cousin's protestations. My sister wanted to take the risk, but my brother and I figured this was due to a desperation for food that wasn't lamb. Finally, our curiosity overcame our trepidation we had over trying whatever the Greeks thought sushi was, and we decided to call up our cousin and have ourselves a culinary escapade.
We drove about 45 minutes to the seaside town of Chersonissos (or Hersonissos, depending on who you ask), a place that, for me at least, reminded me a little of Hollywood beach in South Florida. For those that haven't had the pleasure, picture a cozy but commercial seaside town, where the nightlife is more like a comfortable party than an all-out bacchanalia, where the restaurants all have gorgeous views of the sea, and people on motorcycles riding on paths that probably shouldn't allow motorcycles, but do anyways. It's a place that gives off a calm and pleasant atmosphere, one that satisfies anyone looking for a party while at the same time giving those who just want a nice dinner their space. Never had I seen the personification of a happy medium in a physical place. It was quite nice, and, as I was to learn, a greatly appropriate place for a sushi restaurant on a Greek island.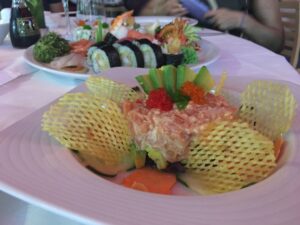 The restaurant is named Kymata Sushi, owned and run by a wonderful visionary named Christos, who was inspired while on business in Japan to bring the wonder of sushi to his home. His other profession, that of high-end jewelry store owner, has influenced his passion. The sushi he has helped to bring to this country is, quite simply, a work of art, as seen on the screens on the walls above the restaurant that show his beautiful jewelry morphing slowly into intricately rolled pieces of sushi. It was a little entrancing, and I couldn't help but allow my mouth to water just a little.
"Wait until we order," my brother said. "Just…wait."
My brother takes his sushi very seriously. He can down four to five rolls of sushi (with some pieces of sashimi here and there) in the same time it takes a normal person to eat one roll with maybe an appetizer. It really is an impressive thing to witness, almost like a free Vegas magic show: watch this pound of tuna disappear before your eyes in 3…2…you get the point. His litmus test was a tad more precise than mine, and so we agreed to order a wide variety, to my cousin's distress.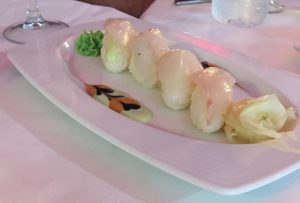 "Are you sure you'll be able to eat all of that?" he asked, wondering just what we were feeding my brother in America, who was tall and thin and didn't look as if he was physically capable of eating an entire kitchen. My brother's face was stone. He wasn't there to play games…he was there to eat sushi.
Our waiter took our order, and after some pleasant conversation with some of the staff and the owner, and some complimentary hors d'oeuvres, our sushi came. We think, in retrospect, that the waiters stuck around because they simply couldn't believe my brother would be capable of eating, though a more realistic explanation is that they were the most attentive staff I'd seen in a while. I don't think my water glass was emptied once that night.
But the sushi was a marvel. It was beautifully presented, as if Poseidon himself had wrapped up his treasures and presented them to us on a plate. Our eyes wide, we couldn't help but drool at the colorful array before us, filling the table, and making us just a little unsure of how much, in our hubris, we had ordered. The taste test, however, was still before us. We gazed at my brother, who had assumed the position of authority, and waited with bated breath as he lifted the first piece of sushi to his lips. The air went out of the restaurant. You could have heard a fish bone drop.
Our cousin, as you probably guessed, was right: the sushi was the most delicious we had ever tasted. My brother's eyes rolled back into his head, enraptured, and my sister, usually a proponent of sharing from other people's plates, decided to start hoarding her own. I had to confess to my cousin that we ugly Americans were eating our hats. This was, in fact, the best sushi I'd ever had, and my brother concurred. He devoured 30 pieces of sushi, 12 pieces of sashimi, and an entire bowl of salmon tartar. He thanked our cousin for showing us the restaurant, and then walked off into the night, his thirst for sushi officially quenched. What a hero.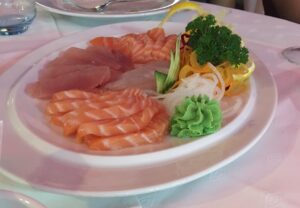 So if you are searching for a break in between the traditional Cretan fare, look no further than the small, lively town of Chersonissos. Look for a clean, well-lit place, known as Kymata, and enjoy some of the best sushi you'll ever have in your life.
Say hello to Christos for me.
By Katarina Kapetanakis