It begins when you disembark. You step off the plane, or the ship, that you've been on for several hours now. Maybe you're lucky, and you're only two, maybe three hours away. Maybe you've caught a casual four-hour flight, and you're looking forward to a nice three-to-four-day weekend away. Maybe you've just gotten off an agonizing seven or nine-hour flight and your legs are cramped, your eyes are dry, and despite (or perhaps because of) the airline's attempt at bringing you a decent breakfast, you're desperate to get off the plane and to find something that satisfies you. But, and odds are you're in this predicament, you may be forced to wait for another few hours in an airport on the mainland, waiting for your connecting flight that will take you to what you hope will be an island paradise. Perhaps you grab a coffee, ignoring the rumbling in your stomach. Maybe you even cave and grab a pastry. You pray that something will be open by the time you land in Crete, because anything, anything¸ is better than dry, overcooked airport food.  Next to you, backpacking teenagers sit slumped in their seats, snoring slightly. You wonder if they'll be seated next to you on the next flight. You hope they won't be. Once you're on the plane, the caramel you're given by the flight attendant only seems to remind you of how absolutely starved you are.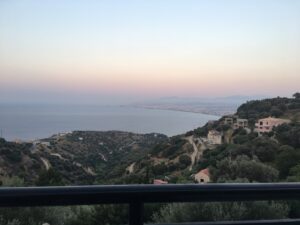 But from the moment you step outside of the airport doors and set foot on the island of Crete, things start to look up.  A friendly face, a representative of the company you've booked with, has come to take you to your villa. They seem enthusiastic, despite the time, and their attentiveness warms you. Maybe you make small talk, about the flight, about the island, about the villa itself. But you can't quite focus on it. You're just wondering when it's appropriate to ask: Where's a good place to get some dinner? When you finally get up the nerve, (or maybe you've gotten lucky and your new friend on the island has broached the subject themselves), you're happy to know that, in your case, your villa is right next to a wonderful taverna that your new friend knows very, very well.
The taverna is called Meteora, named after the mountain range on the mainland that holds some of the world's most spectacular monasteries. The name is appropriate, as this restaurant is nestled on the side of a mountain, overlooking the sparkling lights of Heraklion down below you. You're seated on the balcony, listening to the sounds of the ocean, of the music playing through the speakers, and if you're not mistaken you can even catch the faint braying of a donkey. "From the church below. They have a donkey," you're told, and you smile at the image of a local priest riding to his church on his steed. The owner, Tasos, greets you warmly. He's a great big bear of a man, tall and bearded, and simply exuding friendliness. He knows you're staying in the villa next door, and he's happy to welcome you. You're overwhelmed by all the choices on the menu, he can tell. So, he brings you the best of everything.
Suddenly your table is covered in plates, a feast to end your day of fasting. Goat cheese paired with the sweetest of honeys. The Cretan version of bruschetta, a lovely compliment to your white wine that you sip like water. Dolmades, or stuffed grape leaves, are small but packed with flavor. "His mother, she makes them," your friend tells you, and points to Tasos. It's a family affair at Meteora, with his mother helping in the kitchen and his daughter helping him serve. You can't quite understand all that's being said, but you understand laughter, and smiles, and the toasts to your good health and good time. You cannot believe your luck when they finally present you with lamb, cooked to be so tender and flavorful you cannot believe you've ever eaten it any other way. It melts on your tongue. "Crete's favorite vegetable," Tasos jokes with you. They're so flavorful, you're told, because they spend all their days eating the wild mountain herbs. They flavor themselves, you think. It's almost like they do Tasos' job for him.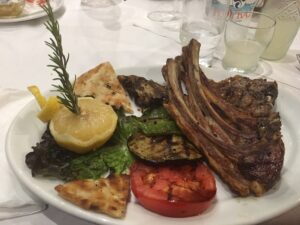 Just when you think you can't eat anymore, you're presented with a plate of fresh fruit…and something else. Small, clear glass bottles full of a clear liquid. Water, you think, but no: it's the drink of the gods. Raki, as you're soon to learn, is a smooth but burning liquor to rival the alcohol content of American moonshine. But how delicious it is, and how warm you feel once you've had a couple sips of this ambrosia. And as you sit there, listening to music and happy chatter, that you've had quite possibly the warmest welcome as anyone could get.
There's a comfort in finding your place in the warmth of a dish made with care, or dare I say love. For the people you meet, and I mean everyone on this island, they all put all the love that they have into all of the food that they make. And if your food is made with care, and if you're met by the smiling face of people who love what they do and want to share the best of that with you, well then…what better way to say it?
Welcome to Crete.
By Katarina Kapetanakis