It is a truth universally acknowledged that a tourist possessing many vacation days must be in want of an ice cream. Think about the last time you went absolutely anywhere on holiday: do you happen to remember a time when you didn't see a massive line of hungry tourists waiting to get some ice cream? In many places, you can't fault them for it. Ice cream is delicious, after all, and it's a relief on a hot summer day. Its also familiar; you know ice cream is a safe bet, a delicious safe bet, when a sweet tooth hits you on your travels. So I won't fault those tourists who spend their time in line waiting for ice cream when many of them simply don't know that more interesting (and arguably better) alternative deserts exist.
Ladies and gentlemen, let me introduce you to bougatsa.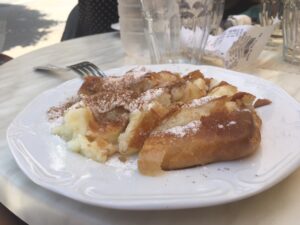 Bougatsa is a marvelous treat that is believed to come from the city of Serres, in Macedonia, and just so happens to be very popular in the Cretan cities of Chania and Heraklion. Bougatsa is a pastry made of thin, flaky layers of phyllo dough wrapped around either delicious mizithra cheese, or a sweet "cream" custard, both versions topped off with cinnamon sugar. It's a warm and buttery wonder that hits all the right spots you didn't even know existed. If you've never tasted it, you can't imagine the warmth that spreads in you, that happy feeling that grows with every bite. The perfectly flaky, buttery phyllo is such a wonderful compliment to the slight tang of the cheese, while the cream version sits on the tongue like a dream,  the perfect balance of savory and sweet. When I was first introduced to bougatsa, it was like my third eye had opened. As a great lover of cheese, I had fallen head-over-heels in love. Truly, nobody does cheesy pastry like the Greeks. I honestly wonder if they were the first people to discover that cheese pairs so perfectly with pastry, and that it's the perfect thing not only for an afternoon snack, but for those looking for a sweet and savory start to their day: that's right, bougatsa is actually a breakfast food! Although nobody would blame you if you got it for lunch….and dinner…and dessert.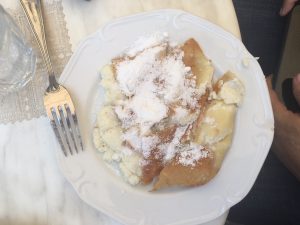 My favorite place to get bougatsa is a small café called Phyllo Sophies, (which automatically wins extra points for that world class pun). Here you can find bougatsa at its most authentic, complete with an attentive staff and some pretty lovely surroundings, such as the fountain in the heart of Lion's Square, and the universal joy that comes from people-watching. In fact, every so often talented street musicians will set up shop near the fountain, providing the perfect soundtrack to your afternoon cheesy (or creamy) treat. Stopping for a bougatsa in Lion's Square is like stepping off the ride that is life for a short while. The world keeps spinning without you at a lightning pace, while you get to sit and enjoy a warm slice of comfort. That's really what bougatsa is to me; a chance to collect yourself, to feel refreshed and be made whole again with just a touch of extra sweetness. It reminds me that life is short, taking stock of time, your surroundings, and your life is important, and most importantly, it reminds me that  sometimes the perfect way to make life a little better is to add a touch of sweetness. Perhaps that's a little corny of me. But would you really begrudge me a little armchair phyllo sophy?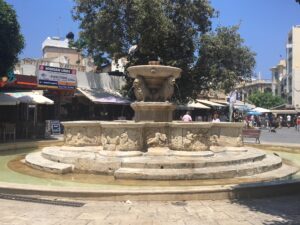 By Katarina Kapetanakis